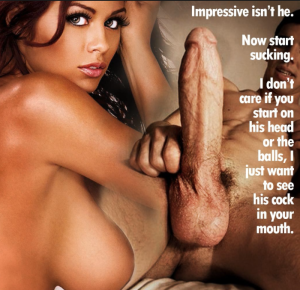 Note: This is a roleplay scenario. Yogurt was used in lieu of cum, and no, there was not a real man fucking me in the room…. it was all done by imagination!!!! I blindfolded him, and then made slapping sounds on my ass as I screamed about how hard I was being fucked and how big the imaginary man's cock was.
There was no compromising of anyone's health. No oral, just pretend 🙂 Oh, but he did suck my condom covered cock 🙂 and a very good job he did, too…
Read on for the nitty gritty DETAILS:
The role play was that we were married and I have a small cock and cum too soon to satisfy my wife. We had sex this morning and it happened again I came and she did not. So she sent me to work wearing her panties under my work clothes. We picked up the role play as I was coming home from work that evening.
I said hello and She asked me to come in the living room and sit down. The living room was set up with candles burning etc. She told me after my lack of performance this moring that I should sit on floor at her feet. She told me our life together was going to change or we would not be together. She said she had a lot of surprise for me this evening. She told me to strip except for the panties she had me wear to work. She was dressed very sexy. she grabbed my cock through my panties and said from now on it would be called my clit, and my ass would be called my pussy. She said I was going to be her sissy bitch from now on. My clit had started to leak pre-cum which she noticed and scooped it up with her finger and made me eat it. Danielle then tied my wrist together and had me crawl over to a bench and lean against the benchand stick out my panty covered ass. She pulled down the panties a little and hand spanked warming up both cheeks. She suddenly with a lubed finger penetrated my ass and massaged my prostate. This started a regular flow of pre-cum which she made sure to feed to me. With her finger in my ass she wispered in my ear that she had a friend in the bedroom that she was going to bring into the living room and fuck to her hearts content. She withdrew her finger and blindfolded me. She brought her friend into the room and started service his huge cock, she mounted him right there on the couch they switched to doggy and he was really pounding her. She came hard followed quickly by him. He came deep in her pussy. He quickly left and my blindfold was lifted. She was ravaged. There was cum running down her thighs and all over her ass. She first made me clean the cum off her ass then the cum running down her thighs. After the clean up she said that she was going to fuck me now, but not the way I think. She left the room and returned with a strap on. She made me suck and deep throat her strap on. She then bent me over the bench and atempted to enter me. I beg her not to because it was too big. After begging many times she said ok try wiffing a little of this stuff and we will try again, but sooner or later I'm going to fuck your cunt you sissy bitch. I did as I was told after a couple wiffs she tried again and she entered me with her strap on. She waited a bit after first entering then started to move in and out. Soon she was fucking me hard and making me beg for it harder. She rubbed my leaking clit through my panties and fed me more pre-cum. Soon I told her I was going to cum she made me cum in my panties. She pulled up my cum soaked panties and made me get dressed and sent me home in cum soaked panties.
What a wonderful session. Her role play skills are great, and her strap on use was very well done no pain just pleasure.
Spread the word. Be a fucking pioneer.