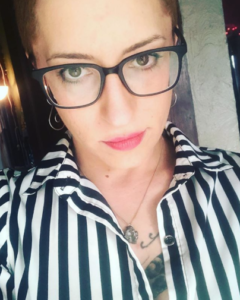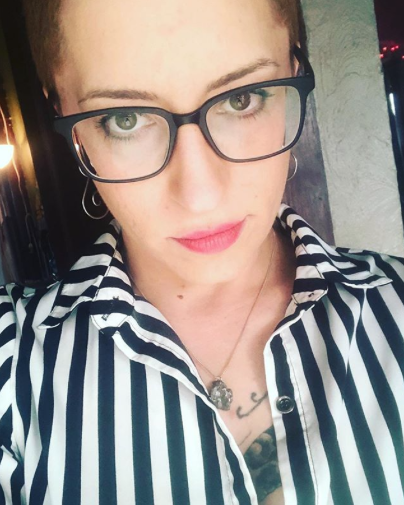 DECEMBER 2019
COUPLES SESSION
We thoroughly enjoyed our couples session. Being new to BDSM, Mistress Danielle was patient and took time before the session to learn about what our desires were, and she continually checked in throughout the session to make sure things were going ok. She truly does have an amazing sense of how you are feeling during the session without even needing to ask. We both learned a lot, not just about each other but also about ourselves. We had been approaching BDSM as a strictly physical activity, but now we have learned how strong the emotional side can be, and we're looking forward to continuing to expand on that ourselves.
Note from Mistress Danielle: If you would like to see a video of me talking about the details of the session, you can find it here. I also do a mini strip tease lol cus why not hahahaha:
https://onlyfans.com/9835869/missddenver
NOVEMBER 2019
Mistress Danielle, After I've had some time to decompress, I just wanted to express my appreciation for our session, as you've absolutely had me flushed for the day, and I cannot be more grateful of the endeavors you undertake to carry out any session.
I never felt out of place nor did my mind feel uneasy, albeit my body might not of been wholly comfortable, and it speaks highly of your gift as an intuitive kinktress & confidante, so thank you.
I honestly don't think I can give you enough credit, and I'm trying to repeat this in different ways because I'm grateful to have taken a deeper exploration of my kinks with you, and I don't think I conveyed it adequately enough after our session. (My mind was riding high) To take one more swing at the horse. Thank you,
August 2019
I have had the pleasure of seeing Mistress Danielle on a few different occasions. Every session has been a unique experience and an absolute thrill. Our conversations and her honest insight have been extremely helpful to me. She is always engaging, attentive, and her kinkiness is truly addictive. She has an uncanny way of making me feel at ease and on edge all at once. The way she crafts each session in a thoughtful way is inspiring. Her beauty, personality, & charisma leave nothing to be desired. I have no doubt she is the best at what she does. Thank you Mistress
MARCH 2018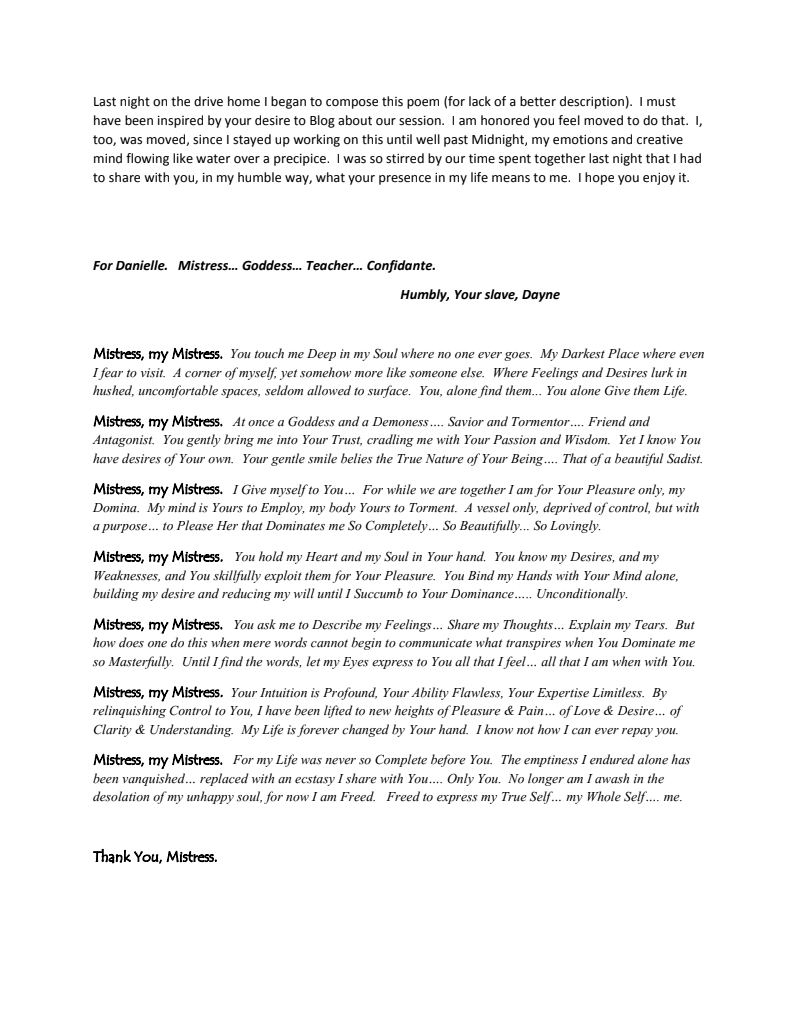 FEBRUARY 2018
I won't bother to share the specifics of my second session with Domme Danielle, and that's because I am sure yours won't be anything like it.  A session with Her will be exactly what you want, or more accurately, exactly what you need.  Aside from Her spectacular beauty and talented sadism, Domme Danielle is blessed with an almost supernatural empathy that allows Her to feel your weaknesses and desires and then play right into them without ever breaking you.  And best of all she really enjoys what she does! I have left both my sessions feeling like a made a friend or had a relationship for those precious hours.  For the novice, don't hesitate.  She's as good at handling your nerves as She is with a flogger.  And for the experienced, trust me, book immediately.  You haven't experienced anyone this generous, vibrant and just plain fun.
FEBRUARY 2017
 Our session was so special, thanks to your care and warmth. I came home to savor the beauty of our time together and reflect on it and myself:) See you soon (in my dreams), and I will think about what doors you can help me open next time! Ciao
NOVEMBER 2016
THERE'S NO ONE LIKE YOU IN NEW YORK!
-anonymous
* * *
I know that I am not a frequent connoisseur of pro dommes, but that was the best session that I have ever had. No bullshit… the best. You are not only gorgeous, and intelligent, but the effort that you put into a session is unparalleled. I love that you took the time to get to know and understand my kinks before we started and then tailored an awesome session that we both enjoyed. I think that we literally did every fantasy I have. You have supplied me enough fantasy material to last for years. I hope I can somehow find a way to see you again. Let me know if you ever head east… like anywhere near Ohio.
OCTOBER 2016
Thank YOU.  Thank you for allowing me to share a part of myself with you, and for being so generous as to share a bit of yourself with me as well.
I am telling you, of the dozens and dozens of experiences I've had with professional Dommes, some quite wonderful, I have never experienced anything like that.  And not just because of the particular threshold crossed toward the end of the session, but rather the tenor of the entire experience; thinking, feeling, sussing out what your next move is – it was like watching an "action painter" like Pollock at the top of his game!  Your nom de Dom (i.e. the use of "intuitive") is truth in advertising of a very high order.
I sincerely hope to find my way back to Denver again, hopefully sooner rather than later; thank you again for sharing both your outer outer and inner beauty with me.
Until (I sincerely hope), the next time, with affection and respect,
à la prochaine, D
JUNE 2016
First, the bad news: You are going to die. Now the good news: If you are reading this, you are alive and there is still time to experience a session with Domme Danielle.
Her communicative skills and intellect are a breath of fresh air. Her smile could be used in a toothpaste commercial. Her laugh is intoxicating. Her body is sublime. Her tattoos are positive and unique. Her basement dungeon is kick ass!
I experienced my first session with Domme Danielle while vacationing in Denver this month.
The topic of my session is something that even my girlfriend of ten years is not into, and we are into A LOT! Domme Dannielle took her time with me beforehand to discuss some of my deepest desires. I felt comfortable, but nervous. The nervousness went away as our communication and trust grew. Fortunately for me, the scene we engaged in not only interested Domme Danielle, but she found it quite entertaining. I'm glad I was able to please and delight her.
Our 1.5 hour session left me feeling exhilarated, exhausted, fulfilled and more than satisfied.
My first session with Domme Danielle will NOT be my last. But if my life ended tomorrow, she would be one of the reasons I'd have a smile on my face.
In awe,
MAY 2016
Electric pinwheel. That's my first memory from a most memorable afternoon with Mistress Danielle. The pinwheel danced down my back and over my chest, buzzing and stinging like a tattoo needle, before it reached the tip of my delicate parts, delivering the most delicious, searing pain. Then, amidst the darkness of my blindfold, Mistress's soft skin brushed mine, and She murmured in my ear what a good boy I was to take all the pain that She saw fit to offer me.
That's the first memory, but on reflection, it wasn't even the best part of my experience with Mistress Danielle. From the moment I arrived, she proved to be all her website promises and much, much more. The beauty of Her presence is stunning, and photos do not do it justice! We had an unhurried period of small talk, letting trust crystallize, before She questioned me about my desires for our session. After I answered, she restated my words, almost verbatim, and then added "And you want to feel nurtured."
I was stunned and almost speechless. That was exactly how I wanted to feel while playing, but I'd never articulated it before, or at least not to myself. The last ounce of apprehension about meeting a new Domme lifted, leaving only the quivering anticipation of serving such a powerful, extraordinary woman. Mistress Danielle ordered me to my knees.
An hour and a half later, I lay, hands bound and legs strapped, among other things, and Mistress knelt near my head. As I looked up at Her confident smile, She asked me what I had learned that afternoon. In the hot daze of Her attention, after the sharp teeth of Her imagination had found the grooves of all my locks, I said something, but something far less than the truth of that moment.
Now two weeks later, I can tell you that what I learned is this: a session with Mistress Danielle is a beautiful communing of two souls, a symbiotic and therapeutic relationship that lives for a few hours in Her basement dungeon. She listened and concentrated and cared.   If you do the same, expect to enjoy sweet and exquisite torment by an intelligent, empathetic goddess.
SEPTEMBER 2015
I just finished my first session with the most lovely and TALENTED Goddess, Danielle. And I can tell you, I truly just received the ultimate erotic escape! Wow. I can hardly type right now.
I had never been to a pro domme before so I was extremely nervous going in. Mistress Danielle welcomed me at the door, and boy was she stunning! Despite my nerves, she made me comfortable and spent time talking with me before our session started. Although I have always fantasized about BDSM, I had no idea what I wanted in reality. Mistress Danielle asked me many questions that helped me understand my own needs and desires.
As we started to play, I could feel my heart pounding. As Mistress Danielle and I played, I sunk into an erotic space where I was open to all experiences and SENSATIONS. She was stern and cruel, and soft and gentle. She tortured me and nurtured me at the same time. I had no idea all of my fantasies could come true…and I wouldn't be judged! My desires and fantasies were celebrated and explored flawlessly by Mistress Danielle. Her website isn't kidding when she says she is SO intuitive.
While this was my first experience with a pro domme, it will certainly not be my last! I cannot wait to see Mistress Danielle again! This was truly one of the best experiences I have had in my entire life.
DECEMBER 2014
"My sexual fantasy should stay locked away inside my head never to be explored. I should just toe the line and always act in the way society deems "normal." Besides, there's no possible way that the reality could match up to the fantasy that has been building in my brain for many years. It's too sick……too twisted……and just too shameful to delve into…..right? Wrong. I shall be forever grateful that Domme Danielle was able to help me put shame away, and act as a personal tour guide through the darkest depths of my sensual psyche. I could have likely kept my secret thoughts and feelings bottled up forever, but I'm so glad I didn't. We let them out…….we let them breathe…….we let them live. By the end of our session, Danielle had made the reality far exceed the fantasy in ways that I could have never dreamed. What was my fantasy? That's for me to cherish, but the powerful play goes on, and Domme Danielle can help you contribute a kinky verse. What will your verse be? Don't be ashamed……..contact her……find out!"
JUNE 2014
"Hello Misstress, I hope that you are well.  Sorry this took so long, but as I promised… you can post it (if you like it) how ever you want..I'd be proud to be associated with you! Vulnerability can be defined as uncertainty, risk, or emotional and physical exposure. For many, in everyday life this emotion or feeling is not common.  We all walk safely through our lives as we know them, all very routine and comforting.  It is when we step out of those restraints of the everyday, that we become vulnerable. I have always sought this feeling when adventuring into the world of BDSM, and although so rare to find the person that instills this feeling, once in a while it slaps you in the face.  Not completely unique to men in my position, this exposure or uncertainty derived from a truly dominant woman speaks to a part of me that few know.  Most would see me as a natural leader, someone to look to to make decisions, not as the vulnerable man I placed in the hands of Domme Danielle. I knew as I lurked her site that she was different, a professional and someone that knew how to protect my vulnerability.  I knew that I would be able to express any fetish or kink that I had and never be judged.  Once I finally took the step, my vulnerability was protected and I felt safe in the things that are erotic to me.  Somewhere along in my youth I discovered a love of all things satin and lace and is also one of my closest held secrets.  I couldn't even imagine sharing or expressing this part of me, especially when I was younger.  Imagine someone from your late teen knowing that you had such a predilection? Unthinkable! My recent experience with Domme Danielle allowed me to "step" fully into all the things I had hidden from so many.  At one point she asked me to come up with 3 words as to how I felt about the experience… the first thing that came to my mind was vulnerable.  I mean here I was in stockings, panties and full camisole, but as strong and measured as Domme Danielle was, I was perfectly frightened.  All of the daily strength keeps us safe in our piece of the world were gone.  I was finally vulnerable and my world was in someone else's hands.  That vulnerability took me to all the places I had fantasized it would.  I had no control and it was so freeing. So many things from that day will stay with me for ever and others I hope to build on again and again.  Taking those risks, what ever they may be, is what it means to live… too feel out of control and vulnerable. It just seeps endorphins… best high in the world!"
JANUARY 2014
"The best session I've had in my entire life! Nirvana! Domme Danielle took me to places I didn't know I could go." – Senior Executive
NOVEMBER 2013
"Mistress Danielle provided me with a wonderful experience during my first visit with her.  She spent extra time asking about my unusual fetish, extracting details that I've never told anyone.  She showed great insight into my needs, and went above and beyond what I could have asked for as she explored every facet of my fetish with great passion.  She was strict but very sensitive and she produced an incredible rush in me that nobody else has ever been able to create.  Her empathetic and curious approach makes her very special, and I strongly recommend her to those who may be embarrassed or afraid to share their secret desires.  She is quite extraordinary at her craft."
OCTOBER 2013
"So you are forewarned, this will likely be rambling. It's not indicative of how I usually write, but some things are easier done that way. Feel free to skim. 

I'll start with today. There was honestly not a single part of it that is anything I like. I don't like the wand, I don't like floggers, I don't like Saran Wrap. I don't like being tied. But the collective of it was outright amazing. It felt to a degree like hypnosis, like floating, like a distance between me and the moment, an actual disconnect from  reality. My mind never shuts off — and it certainly never shuts off in a BDSM situation — but it shut off today. So, like I said, amazing. And great. Not just great — beyond great. Outstanding.
But there are two other things to talk about, and they may sound silly and a bit overly dramatic. They also may misrepresent our intent, but it's the way it felt to me. I think it may have been one of the most intimate experiences I've had. I don't think I've ever had anyone whisper in my ear before, not like that, even one word at a time . Truly, truly remarkable, and an experience I'll not soon forget. If ever.
The second thing is more big picture. I don't know whether this is just your style, or something you picked for me or whatever, but there was a pretty amazing thing that happened today. Like I've told you before, my fantasies have always been very specific, and not all of them healthy. And you've not indulged any of them. You've given me experiences that don't fuck with my head, don't leave me feeling shitty when I leave, not matter what I've asked for. You've done this all with a tremendous amount of kindness, like you knew something I didn't. I'm a smart man — or at least I think I am — but you took what I've said and turned it away from the destructive impulses they are — or at least you've heard me express that  they are. You seemed to give me what I need rather than what I said I want. I can't tell you what a gift that is to me. I know I've used the word a lot, but it's been amazing. Not kind of amazing, but really, really amazing.
So the big picture of this is thank you. Flat out thank you. Very much"
AUGUST 2013
"I want to thank you for tonight.  I really enjoyed the entire session, even when you slapped the hell out of my (your) clamped nipples.  This sore right nipple will definitely keep it fresh in my mind for awhile.  Thank you for making my first experience with D&S so fantastic, I found myself smiling the entire way home.  I think the most important takeaway is that I realized that I am completely happy with making my fantasy a reality.

 Although I was really nervous when I arrived, not entirely sure how it would go and how I'd feel after, I felt a great sense of satisfaction after we finished.  Putting my body and mind in your hands was a great idea.  You handled every aspect of the time with an obvious level of care, especially when pushing me past what were my limits.

 Also, in my completely nerve wracked entrance, I forgot to tell you how amazing you looked. Absolutely beautiful, especially when you were standing over me bound on the exam table.

 I'm glad you liked the gift and I hope you had as good a time breaking me in as I had being broken down by you.

 I hope I'll be hanging from your ceiling and bound on your exam table again soon."
June 2013
"Here is a Domme that is truly in touch with her subjects.  I have tried across the country to find someone who connects with your area of interest and makes you feel like you are the only one she cares about.  Domme Danielle is that woman!  She kept every one of her commitments and showed up on time and ready.  The entire time with her, I felt at ease and that she was really enjoying herself too.  I was MORE than satisfied with her expertise in my area of interest, and even amazed at her performance!  I will be a repeat customer whenever I am back in the Denver area."
April 2013
"Sometimes you need to go outside the box to get your secret desires met. After having a couple pro-domme experiences in Denver dungeons that left me less than satisfied, I took a chance on an artist (yes I said artist) who strokes her canvas outside of the local kink community. Danielle seemed genuinely intrigued with helping me explore some rather taboo fantasies I've always had. That sense of intrigue is truly what makes her so special. She provides a safe, non-judgmental space where she'll connect with you and make all your dirty little dreams come true! She touts herself as The Intuitive Kinktress so don't be surprised if she improvises and adds something you never expected to heighten your session arousal like she did with me. My only regret is that it took me over a year to build up the nerve to request an appointment. I won't make that mistake again, and I'm already anticipating having another opportunity to session with this gifted pro. If you're seeking a highly erotic BDSM session that can only be summed up as "avant-garde," look no further. By the time it's over, you'll likely be a sticky quivering mess on the floor looking up at her as she smiles sadistically! Danielle IS the mistress you've been dreaming about."
April 2013
"Dear Mistress, thank You for so very much. i was very nervous but determined when i showed up at Your door. You made things very easy on me in those first few minutes. Truthfully, i was expecting You to start screaming at me or slap the shit out of me when i walked in. Sitting there with You while You calmly talked about things kind of freaked me because i have never really had that opportunity with a Woman, or the opportunity to open up about the BDSM stuff in my head. Sorry for being so ignorant on the subject.It felt very good for You to prod and poke at my mind. You rapidly built trust within me. Thank You for teaching me, for taking me where i belong, for opening my submissive eyes, for lovingly caressing my very being. Your skills are awesome to experience. i have a feeling You have more hidden than You exposed me to…which gets my mind to thinking too much…butterflies, nerves, sweaty feet…haha.i loved when You hurt me, honestly…makes me feel weird to say so…but it's true. submissively Yours, Ma'am…" Your bitch, david
JANUARY 2013
 
"Well, it's been a busy few days since our session, so i apologize for not sending this sooner.  But i did want to send a note to once again say 'Thank You' for an AMAZING session last Wednesday.  From the first moments of public humiliation, through the final throes of the most intense and wonderful release i have ever experienced, the session was everything i could have hoped for.  You are an intense, intuitive, and insanely gifted Domme, and i feel priveleged to have met and served You."
"When i first reviewed Your site prior to our meeting, i immediately noticed that You listed "Aftercare" as a favorite activity.  For everything that i enjoyed about the session, i want You to know how much i appreciated the way that You eased me into and out of "subspace".  Last week's session was nothing short of incredible, and i hope that we have the opportunity to spend time together again soon." – Sincerely yours, Sabrina
  
FEBRUARY 2012
"Ma'am – Thanks for your time today.  What a great session — especially for a first time meeting. You definitely live up to your name. You are incredibly intuitive. You figured out my kinks right away and sent me on a great ride. I am looking forward to seeing you again and doing some of the things we've discussed. I trust you so completely that next time we meet, you will find me at your feet saying, "I'm here for you Mistress, do with me whatever you please." thank you again for a great and cathartic experience." Buddy
"Domme Danielle is as the name suggests is a Domme not an escort with a whip. She is easy to contact and easy to talk to about the requested session.  By being time flexible I was able to get a same day appointment in the early evening.  There is easy parking close to her downtown incall.  I called her because of the fact that her website and ad site both mentioned that she enjoyed role plays.  She is very good at it and should consider a career in acting.  I requested a cuckolding fantasy role play.  We discussed details on the phone first, agreed on a time, and she gave me the address.  It was the best Domme role play session I ever had. If you get a chance have a session with Domme Danielle you will not regret it.  Her SOT skills are also second to none.  I will be returning shortly." – anonymous
JANUARY 2012
Review from a first timer
"I have had an interest in BDSM for a long time but have never had the nerve to actually pursue it.  After several times of "almost getting up the nerve, but then chickening out" I called Danielle to actually set an appointment.  I was amazed at how relaxed she made it for me.  She spent time on the phone understanding what I was interested in, and then working with my schedule to find a time when I was travelling to Denver to meet. I was very nervous, but within a couple of minutes of casual conversation, she was able to "figure me out" and completely put me under her spell.  I was shocked at how easy it was for me to let it all go and submit to her.  For all the guys who truely are "first-timers" like me, no need to be nervous with her.  She came to my hotel room and just like her website said, is not a clock-watcher and generally seems to enjoy what she does.  I highly recommend her!" – Jeff 
DECEMBER 2011
"Who Needs Drugs!!??  Hey.  Just wanted to write and say what an amazing time I had today.  You are beautiful and smart, which is a very rare combination. I was impressed at how well you could tell just when to stop.  Normally, with my work, i am having to make all the decions and most of the people that come see me are nervous to meet with me.  That had nothing to do with why I came, but it was really cool to get to be on the other side of that feeling.  Now that I kind of know what to expect, there are definitely some things I have in mind to try for next time.  I wish there was a way for me to break away and see you again this trip, but being in Breck and not having a car will make the chances of that pretty unlikely.  Hopefully I will be back soon though. Hope you have a great Christmas!  Thanks again!" BRIAN
"I have been seeing Domme Danielle for over a year now. I was fairly new to BDSM (had only played with girlfriends) and she made me feel extremely comfortable. I was so nervous the first time we met but that soon vanished after spending only ten minutes talking with her. Danielle really does care about her work. I have never felt like a client with her, and she truly is an artist. She has become a very important part of my life. She knows when to back off, when to push me, and she's always surprising me, even after all this time. There is no question in my mind that if you're looking for someone who masters the mind and body, Domme Danielle is your best choice." -G
NOVEMBER 2011
Thanksgiving was so scary yet sooo exciting. Your experience mixed with your youthful innocence was intoxicating.  I thoroughly enjoyed talking to you at the restaraunt and getting to know you and your story a little bit better.  I love your philosophies on many things including relationships.  They are very consistent with how my wife I approach our relationship. Even while getting to know each other you did not lose focus on the task at hand – humiliating your new little pet.  I couldn't believe how you made me go into the bathroom twice and come back both times looking more like the sissy that I know that I am.  I was being exposed to everyone as a total sissy. The first time I came back from the bathroom I had on the perfume, lipstick, stockings, and the bracelet that you had provided for me.  Most everything in this trip was fairly discreet and wasn't too hard to handle.  However the part that I did not tell you was that in the bathroom as I was putting the lipstick on in front of the mirror someone came in and caught me – OMG I was so embarrassed.  My second trip to the bathroom was so much more humiliating.  I added to my stockings a purple corset with garter straps to hold up my stockings, I put on the nipple clamps you had in my bag but most humiliating of all was the black high heels you had me put on.  I came out and asked the bartender if my lipstick looked good as you had instructed.  Then I struggled across the restaraunt in my heels to join you at the table.  I couldn't have imagined the most humiliating part was still yet to come.  The note you made me write the waitress made my cheeks a bright red like I was wearing blush to match my lipstick.  The only thing that could have been hotter is if she would have asked to come back and watch you treat me like a sissy slut and based on her response I think she would have enjoyed that. Once we got back to your playspave I thoroughly enjoyed being your sissy for over an hour and a half.  I have seen many Domme's and can say that you have a unique approach that is so sexy and exciting.  I can also tell easily that this is not a job for you but a passion.  My wife, the Domme of my life, appreciated your note.  I can only imagine the two of you working together, OMG it would be so scary.  I am looking forward to more opportunities to be used by you and to amuse you Domme Danielle!! Thank you for an incredible time."  -slave krissy
"I can't say enough good things about this experience — it was so good that despite seeing more than a few providers in town, I'm inspired to write my first review for TER. She is an artist in every sense of the word — she seems to take absolute joy in what she is doing, and is open minded enough to accommodate tastes that might be a bit unusual. She listens and then takes charge with a kind but effective tone, guiding the session with a firm but understanding hand. There's never a doubt whose session it is. She's a knockout — just flat out beautiful — but more importantly she listens and then takes your fantasies and turns them into something tangible, a skill i have found exceedingly difficult to find in anyone else. She's got great reviews, but they don't begin to honestly explain just how good she is at what she does. After seeing a lot of prodommes in the Denver area, I finally found a smart and creative artist, and I can't wait until I get the chance to see her again.  I arrived at her tasteful, well-decorated space and we talked for a few minutes about stuff, but she didn't waste time that way like other providers have. She used the totality of what I was saying to help her craft her scene. She listened to my fantasies, and then found one she wanted to make come true. So she did that. She's skilled with her toys, but more importantly skilled with her imagination. It's wasn't a matter of "let me show you what this can do;" everything flowed organically from the scene she created. If you want to get an idea of what that means, she had CD clothes and equipment, but also used the rest of her place as toys as well — the kitchen sink, the floor, the carpet, the entire world became what she wanted it to be."-Mike
OCTOBER 2011
"Traveling to Denver for the first time and with some spare time on my hands I was looking for a BDSM experience. Not knowing anyone there and after lots of searching, I came across Domme Daniele which turned out to be the best break I had for a long time. From the understanding and high level of communication given whilst trying to book (even more impressive knowing I was unlikely to be a long term client – unfortunately for me!) During the session itself I was blown away by her level of professionalism and caring. She took the time to understand what was of common interest to us both and then used that to inflict the most wonderful needle session I have ever had interspersed with some other great sensations. The best part was all the time I could tell she was genuinly enjoying herself and definitely NOT a clock watcher. I will truly remember forever and cannot wait to be back in Denver sometime soon. Highly recommended to anyone after a great BDSM experience with this Pro-Domme." -Gareth
SUMMER 2011
"I was able to visit with Mistress Danielle yesterday and it was absolutely amazing. Her pictures do not do her justice. From the first moment we met, I was Enthralled by her blend of intelligence, beauty, confidence and an incredible body that demanded to be worshiped. I was nervous about meeting because the world of bdsm is new to me and I wasn't certain what my limits were. Mistress Danielle relaxed me immediately before our time began by talking about what I wanted to explore, before changing into her dominant role. The mistress mixed psychological with physical for an amazing experience, that was spontaneous and evolved in the moment. She taught me to go slow and that my body belonged to her… Obedience was rewarded, disobedience punished and I was most pleased because I could see that my mistress was enjoying what she was doing. Mistress Danielle was even hotter when she put on her strap she and she seemed to know exactly where my limits were without me saying a word…" -Buck
"Don't know how much I should add in here, but she is TRULY MUCH sexier than her photos! Plays as hot as I've ever had! And this is from a guy who's been in the scene in NYC for 25 years. When she says she's an expert in certain areas of fetish, she's not kidding, she was fucking amazing! I only wish she had a thing for older fat bald guys, because I'd move for a woman like her. She made my visit to CO so worth it. I wish she'd visit NYC someday." -uppereastside
MARCH 2011
"I have seen Danielle twice now. In our second session, Domme Danielle pushed me to new levels of humiliation. She incorporated public humiliation (with my consent of course). I should add that Domme Danielle is an expert in flogging. This was without a doubt the best session I have ever had with any Mistress. Creativity IS an understatement." -sissy princess
JANUARY 2010
"I don't even know where to start. I've been a repeat customer of Domme Danielle's for several years now….and she just keeps getting better. Which is actually hard to believe, as she was already good enough to have my repeat business from the beginning. As somebody that has served many of the pro-Domme's in Denver, I can attest, she is by far the most beautiful, creative, and fun of the bunch. She has a wicked sense of creativity and curiosity rolled into one stunningly attractive exterior. I've been back many times in the past, and I look forward to many more times in the future. Jason" Jason
JANUARY 2009
"I saw Domme Danielle a few weeks back, and have to say wow. Not only is she beautiful and sexy, but she has the posture and demeanor that is sure to get a rise out of you. You can tell that she definitely loves what she does, and has a great time doing it. Her bag of tricks is extensive, and quite captivating. She brought me to levels and exposed me to things I cannot speak highly enough about. Not a day goes by that I do not think about it. All in all, you'll have a great time. Don't be shy (as I was at first) and let her know what you want. She's very good at putting you in a mind set of not knowing what's coming next, but also knowing you can't wait to find out." Matt, Completely Satisfied
"When Mistress Danielle arrived I was as nervous as could be. Her unparalelled beauty, coupled with my hidden desires made me totally unsure of everything I had ever known. She sensed this in me and took her time slowly seting me at ease, until I felt as though we were long lost lovers. This is when we started to play. She changed the tempo of the scene, and moved from the caring loving Domina, into a harsh, demanding Venus, back and forth, flawlessly. You will never find a Domina with a more perfect body, more beautiful face or deliciously wicked sense of play. It's safe to say I'm hopelessly addicted, and caught under her spell. Thank you ma'am. Sincerely, Your servant Niq"
SaveSave
SaveSave