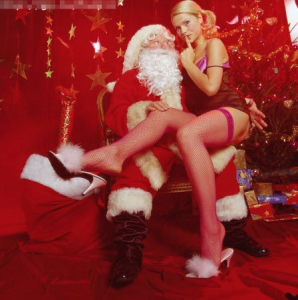 Slave Krissy's first assignment was to not orgasm until she got to Christmas dinner with her family. I then told Krissy she could masturbate BUT while the entire family was in the house. She then was instructed to write about her experience:
Christmas Assignment write up
I have to say that this was the kinkiest family Christmas I have had Mistress.  I was of course so worked up after not coming for so long.
We hosted Christmas here at our house and we had my grandma, my mom, my sister, her boyfriend, their 3 kids, and our kids.  Our house was pretty full.  After we ate I excused myself upstairs for just a few minutes to put a butt plug in(in the pic attached).  It took me awhile to get the plug in and I felt filled up once it was in.
I came downstairs and we opened Christmas presents.  No one knew but the entire time my ass was stuffed like the little whore I am.  Once we finished with presents I once again went up to my bedroom to finish my task.  I was going crazy at this point knowing I was going to get to cum.  The house was so noisy at this point.  The kids were running around and all the adults were playing a board game.  I felt embarrassed to be upstairs getting ready to rub my little clitty for my Mistress but I was so excited and horny that I was dripping at this point.
Ever since I saw the pic of You fisting someone on your fetlife.com profile I have been watching porn with girls getting huge things put in their asses and porn where gaping is the theme.  So I decided to use our biggest dildo in my pussy.  I stripped down naked and took the plug out.  Given that it is metal it was almost hot from being inside of me. I then put on a pair of new pink panties I have from Victoria's Secret.
I mounted the dildo by the suction cup to the chest at the foot of our bed.  I lubed it up well.  I set up a porno to watch on my computer where girls were hogtied and being fucked in the ass with big toys.  Then I pulled my panties down so that my ass was exposed.  I started touching my little clit and tried to lower myself onto the dildo.  It is so huge Mistress that it took me a long time to finally get it in. When I would get it in I could only stay on it for a few seconds.  After some time I was finally able to get it all the way in.  I sat all the way down onto it and could not believe how full it made my ass feel.  I had to rub my clitty to keep it from hurting.  I bounced up and down on it a few times while rubbing my little clitty and then I could not take it any longer.  My little clitty squirted all over the towel I had set up below me.  It felt so incredible Mistress.
I thought of You and how amazing you are to me Mistress. I had to slowly raise myself up off the huge dildo.  I took some time to clean up and put everything away.  I walked downstairs to see my family and I couldn't help but think what they would think if they knew what a slut I really am Mistress.  Thank You Mistress for letting me cum this Christmas