I asked Krissy to do a write-up on what it means to be a slave. I feel that many people have a misconception about D/s relationships. Krissy is married and is also polyamorous. Krissy provides very good insight on D/s relationships. Here is what every sub should read: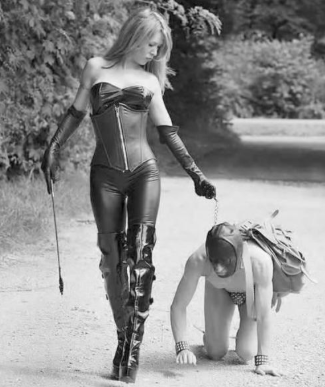 Mistress below is my writing on What it means to serve a Mistress. I have had the opportunity to serve many different Dominant women and a few Dominant men starting at the age of 15.  I am currently married to a Dominant woman and am also in a relationship as a slave to an incredible Mistress.  I have learned many things in my 20 years as a submissive and hundreds of hours of service.  One of the main things I have learned is that most submissives by nature are very selfish. By nature I am no exception to this. This last summer at Thunder in the Mountains Laura Antoniou, author of the Marketplace series, summed it well by saying that she thought it was crazy that Dominants collected submissives.  She said submissives should collect Dominants. She went on to explain that submissives are the neediest people on earth and they never get enough. So her rationale is that one Dominant could never keep up with many subs as one sub is usually too much for one dominant.The knowledge and recognition in me knowing that selfishness is a core characteristic in most submissives, including myself, has allowed me to approach my service of my Mistress with a self awareness that I have not always had.  It has helped me realize that I, like most submissives, am inherently focused on getting my needs met first and foremost.  It is this awareness that allows me to ensure that my actions of service are not driven only or even mostly by getting my needs met. I believe it is important that ANY D/s or M/s relationship is mutually beneficial.  If both sub and Domme are not getting their needs met then the relationship will eventually fail.  There has to be a balance that allows for both in the relationship to be fulfilled.  I believe there are a few key elements to any D/s relationship. 1. A mutual desire and compatibility 2.  Open and honest communication 3. Trust 4. Pleasure from service
Having a mutual desire and being compatible has to be there first.  If the sub wants to be beat and fucked with a strap on daily but the Domme doesn't like strap on play and only enjoys beatings every once in awhile then the relationship will not likely work because one of the two will always be feeling like they are compromising themselves by giving more then they are willing to or not getting their own needs met. Open and honest communication is important because this is the basis for both the Domme and the sub to be able to express what they need and how they are feeling.  It is both compatibility and open and honest communication that helps you build trust.  As a submissive I have to trust, not demand, that my Mistress will give me the things I need if I submit fully and serve her needs. The last one is getting to a place where you truly gain pleasure from service.  This one took me a long time to get to but I truly feel it and understand it now.  Pleasure from service is when you do something that you personally may never have wanted to do or chosen to do but you do it because it pleases your Mistress.  However it isn't just that you did it but that you actually derived pleasure from pleasing your Mistress.  That alone is the reward.So then knowing that submissives are generally selfish and focused on getting their needs met what does it really mean to actually serve a Mistress?  Is it serving Your Mistress dinner dressed in panties or naked, worshipping her body as you give her a massage, getting bent over paddled and then violated by your Mistress?  Although these can be forms of service, to me what it really means to actually serve is to put your Mistresses needs and desires before your own.  When you want to do all of the aforementioned tasks because it is so exciting to do so but instead you help your Mistress clean out and organize her closet because it is truly helpful for her and makes her day or week a bit easier that to me is true service.  It is getting pleasure from service but also putting trust in your Mistress that if you do those things your needs will also be met because that is what she wants as well (assuming compatible wants/desires).If you find that give a lot and get little in return (whether you are the Dominant or the submissive) then it is likely that you are not a good match for each other in an ongoing D/s relationship. For an ongoing D/s relationship (not just the occasional play) to be successful the submissive has to be willing to put his/her needs second when asked or appropriate.  There should not be a sense of entitlement that the sub is owed something by the Domme.  If your relationship is mutually beneficial, and you are compatible both in interests and desires then both the Domme and the sub will get their needs met.
If the foundation is there it is the role of the sub to truly submit to their Mistress and put their own desires second to that of their Mistress.