I have found, over the past nine years, that fetishists and kinksters, people in D/s relationships, and submissives (and Dominants) can all have very specific kinks and desires. Sometimes, those desires are a little less typical…like cuddling.
In fact, sometimes when people make initial contact with me, they have a script of sorts – a tale of fantasy – that they have acted out alone numerous times before coming to a Professional Dominant like myself. Yet, sometimes, cuddling is kinky…
However, most of you know that there are some people I've seen for many many years. One can imagine the changes that might occur between two people sharing intimate space in the span of time. This leads me to recount my experience last night.
We will call him Brad. Brad and I met five years ago when I used to session out of my one-bedroom apartment in capital hill. He now is in his late sixties. At first, and still to this day, it has been a challenge to get Brad to express his needs for our sessions. Of course he has some staple interests that include things like electric play, sounds, CBT, bondage, etc… but I've always said that – of course – it's not what you do it's how you do it. Which is why I ALWAYS ask my clients how they want to feel when we are playing.
Brad had seemed agitated for about a month now. I had tried to get him to open up by putting on my "older man communication hat" that involves talking less about feelings, more about actions, and fits into the box that our society places on men in regards to emotional expression. It is a unique form of communication indeed that one can learn simply by watching, trial and error, and common sense.
Brad is divorced, has been for many years, and has always expressed a desire for companionship. He has tried his shot at online dating but nothing ever pulls through. I've tried to tell him that most women value communication and I've even offered coaching sessions to help him learn how to communicate in a more open, vulnerable way. He has never taken me up on my offer.
Tonight I went over to Brad's house. He made dinner, and I could still sense the undertones of agitation in his voice, his actions, and in his perception of his environment. I quieted myself a bit more and watched, listened, and occasionally added my own superficial words to the conversation.  I could sense he was in pain – emotional not physical – but didn't want to go there, didn't want to touch it.
We conducted our session in his bedroom – the iron rails in the headboard always prove useful for specific scenarios. I could tell he was having a hard time getting into the present moment, but I knew that wasn't about me and so I continued on – somewhat alone – in my journey of kinky exploration until he was able to meet me, and we continued together.
After our engagement of BDSM activities, we shared space in the afterglow of pleasure – in his bedroom – surrounded by pictures of his family members. That's when the real work began on my part. He had softened but not by much. I used the opportunity to place my body next to his, allowed him to rub my feet and legs, and I reciprocated the non-sexual body rub. We cuddled and exchanged touch for nearly an hour after our session ended.
We did not share the space in silence, however. I inquired deeper about his family, his past, what it was like when he was younger, and I realized that it had probably been quite some time since anyone – except me – had asked him such personal, intimate questions that allowed him to expose himself on an emotional level.
He transformed. His agitation fell away, his face softened, and in him I saw a young boy, freely expressing himself, laughing, making jokes, telling stories, and enjoying the company of another human being. On the outside looking in, it would have appeared as if we were old lovers, safe in the space of freedom to express and liberated from the outside judgments of the world, society, and expectations.
I never expected Brad to come outright and say, "I need to cuddle, and I need you to see me. I need to feel valued as a human being for my past and present. I want to be touched because I don't receive a lot of touch. I need intimacy, and I want to feel important."
Honestly I felt kind of foolish for not recognizing his need on my own. I fundamentally know that our need for companionship and human connection is primal, and sexuality is merely a manifestation of how connected we feel to our partner(s). Duh! Sometimes I have a hard time seeing things that are right in front of my face. Sometimes I forget that we are all very similar – longing to connect and feel seen.
What a nice reminder I received. How wonderful it was to see him soften and relax. It was a nice validation to receive a message on the way home from him that read, "Thank you, that was just what I needed." I know he wasn't talking about BDSM.
Adult service providers – much like therapists – are often containers for the human condition. We hold space for whatever comes up. We provided such a crucial service to a society that is often shamed for expression – either expression to connect emotionally or sexually, among other things – and it is important to remember that we are all human, and we all simply want to connect.
How nice it is to be able to do so. Especially when the kink is cuddling, intimacy, and communication.
Until next time…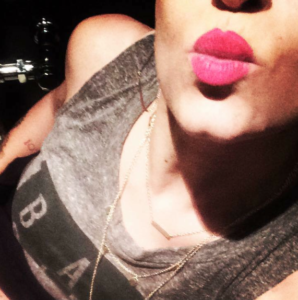 Spread the word. Be a fucking pioneer.