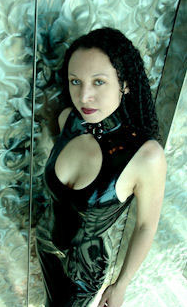 Fellow fetishists and kinky people, it is with regret and sadness that I must announce the death of one of my colleagues and community members, Domina Carmen Moriarty, also known as "MaestroCarmen" on fetlife.com.
Carmen was a Professional BDSM/Fetish service provider and educator. She was an extremely active member in the BDSM community and presented at The Center for Sex Positive Culture, Montreal Fetish Weekend, Twisted Tryst, Kink in the Caribbean, Caribbean Fetish Fest, and Denver's very own Thunder in the Mountains – where I saw her present on "Safe Saline Injection."
"She was one of the most amazing people I ever knew. She was brilliant, funny, exciting, and an old lady all rolled up in one. I would lay my head in her lap and she would read to me and when I didn't understand something, she would take the time to explain without ever making me feel stupid. She was and always will be the love of my life. Our lives were always so parallel; we both even laughed at pain. She's the only person I've ever let 'top' me. She was and always will be a true goddess," says Dani Kaiz, who was a close friend and former lover of Carmen's for over ten years.
While the details of Carmen's death are unknown, it is known that she was living in Switzerland and was found dead this morning. Her death is assumed to be accidental.
Spread the word. Be a fucking pioneer.