I've debated writing a blog post on the topic of the importance of learning how to express your sexual desires for a long time now.
I've hesitated – because I think that many of my BDSM clients think that I'm simply supposed to take control, do what I want, and that they will magically love everything I'm doing to them, and we will all live happily ever after. So, debunking this myth, I thought, could burst a few bubbles. However, I'd rather challenge you all than stay stagnant when I've noticed a repeating pattern when I session with people who are unable to express sexual desires – even after a healthy dose of probing on my part.
Now, let's get one thing out of the way. Do I consider myself to be intuitive? Yes. What exactly does that mean? To me, that simply means that I have an acute awareness of how your body reacts to certain stimuli. When I session with someone who has never played before, what I'm really engaging in is trial and error. I try something, if your body reacts, I try it more. If I try something and your body doesn't react, I back off. This goes on the entire time. No, I'm not reading your mind. Sorry to disappoint. I'm simply having a dialogue with your body (or mind if we're dealing with psychological stuff).
Now, the most difficult clients are those who accept absolutely no responsibility for expressing their own desires. As  Mistress, do I give you pleasure? Absolutely. I also have the power to give you pain, sensation, etc. I can do many, many things! In fact, I have a whole dungeon and toy room with tools to support the things I can do.
However, I am going to throw out a novel idea. An idea I learned from a therapist. An idea on desire. When I first heard it in my late 20's, it was a mind fuck for sure, but now I get it:
Each person is responsible for his/her own pleasure.
Now, before you freak out and say, "but, I thought you were supposed to control my pleasure…" let me explain what it means. 
Yes, I can be responsible for the physical act of giving pleasure (and that can mean pain, too). However, YOU are responsible for expressing your desire in regards to what pleasure looks like to you and how you like to receive it.
The worst thing you can say to an adult service provider – aka moi – is this:
"I just want you to do what you want."
So does that mean we can watch movies and eat popcorn and you'll pay me the same amount as you would for a BDSM session!!!??? Oh yay! Or maybe we should go shopping and you can hold my bags!! (Which sometimes is a true session request). 
Do you catch my drift?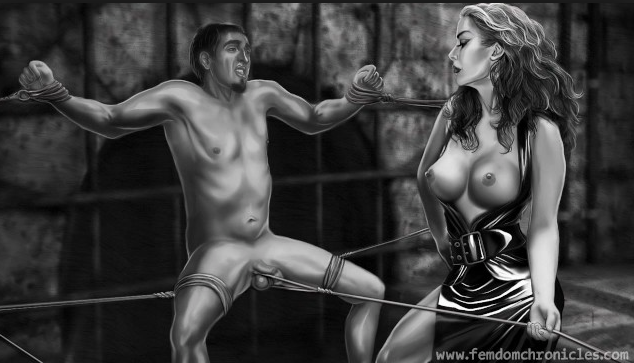 It's crucial for you to have some basic knowledge of your desires and it is crucial that you communicate those desires. If you don't, I can guarantee that you will probably not be satisfied. And you know what? If I have asked and asked and asked in more ways than one can imagine, I won't feel the slightest bit responsible. 
I understand that it can be embarrassing for you to share things you may have never shared with anyone else, but if you're not at the point in your life where you can openly talk about sex to a Dominatrix, it might be best for us to have phone sessions to help you discover your voice – before you take the plunge and use me as an excuse to cross something off of your bucket list.  
BDSM sessions aren't cheap (for most), and for you to get the most out of your session, it would be in your best interest to know yourself well enough to know what gives you pleasure and what doesn't. The "I don't know because I've never tried it," line can only go so far. Most people have watched porn, tried certain things on themselves, and at least have fantasies of what they would like done to them. Yes, I know that fantasy is sometimes better than reality, but if you're coming to me then you would like to figure that out. Express that.
The only exception to you needing to express your desires would be if you REALLY, TRULY, ABSOLUTELY get off on me doing what I want – regardless of whether or not it gives you physical pleasure and for the mere reason of being helpless in and of itself. But even that is a desire to express!
My BDSM/sexual activities vary depending on my play partners. With some people, I am an absolute sadist, and with others, a sensualist. So unless you want to roll the dice and see what you get, I would recommend following my advice!
Please, kinky sluts, do not say, "Just do what you want," unless you really don't care about pleasure and that is what gets you off in the first place. Got it? Thanks. XOXOX
Spread the word. Be a fucking pioneer.