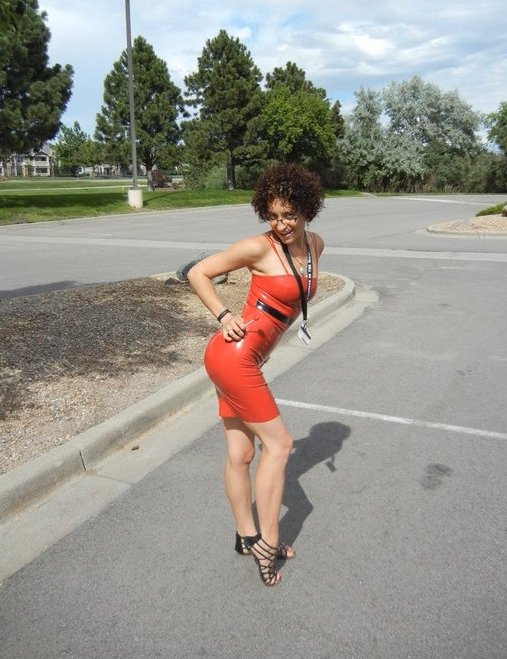 I have been working in the adult entertainment industry for 8 years now. I started as a dancer when I was 22, worked as an escort for a year after that, and then slowly started making the transition into being the baddass FEMDOM I am today.
When I worked as an escort, I would often see fetish clients. One of the very first clients I saw was a gentleman who loved to watch me wear leather and put on lipstick. We would spend hours together, and I was fascinated by the juxtaposition of the simplicity and complexity of his fetishes. Whenever he would come to town he would call me, and we would have a very enjoyable time together. I enjoyed assisting him with his kinks, however, I was not drawn to Professional Domination yet. I doubted my abilities to be a Pro-Domme, and was quite intimidated by the older, more experienced women I saw on the web. I was only 24.
The second fetish client I saw loved to have his balls busted by means of kicking. Not only was this man able to maintain an erection while I delivered full-force kicks to his genitals, but he was also able to orgasm from the kicks. That moment was the moment I realized the power of the mind in regards to arousal and sexuality. I was hooked. I was fascinated. I wanted to know about all the kinks, fetishes, and aspects to BDSM. 
I started reading books about power exchange. I studied other Pro-Domme websites and looked up the meanings to kinks and fetishes I had never heard of. I watched BDSM porn (although I found most sites to give an inaccurate portrayal) and played with many generous and willing submissives who knew I was in the process of learning about this ancient art form. I can't say that I am entirely self-taught, because I've studied the work of notable Dommes such as Cleo Dubois and have attended conferences on gender, sexuality, kink, BDSM, and fetishes. I have no shame in saying that as a Professional Dominatrix, the times that I have learned the most about this craft have been while I was on the receiving end/bottoming to another. I have never apprenticed under anyone and have never had any formal sort of teaching. I do NOT see this as a hinderance simply because I don't doubt my ability to learn or teach myself. I have topped, bottomed, instructed, taught, coached, and learned much along the way.
So, for all you curious subs who always ask, "How did you get started in this, Danielle?" There's your answer!
Spread the word. Be a fucking pioneer.