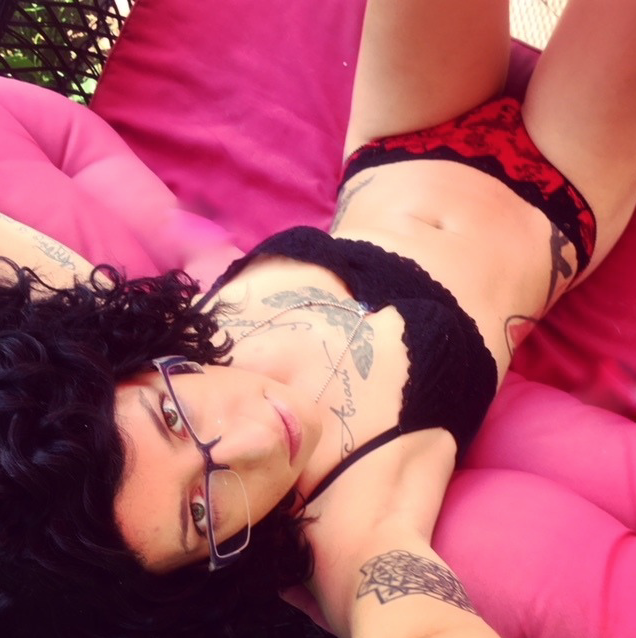 When it comes to BDSM and Female Domination, I will use my body and mind to stimulate ALL of your senses. I do not have a list of kinks, simply because there are too many of them to list! I'm into all things, even the taboo. You will not be judged here. I am very hands on but maintain an emphasis on psychological domination. The mind is my playground.
I have a fully stocked, comfortable, and very clean dungeon with plenty of toys. 
I offer scenes with different tones: sensual, sadistic, humiliating, playful, etc. I like to collaborate with you about your experience. We will talk before we play.
If you have a specific question about a session, please do not hesitate to email me. I do not think any desires or interests are weird. I've seen a lot, and I do not shame anyone for their interests.
✶ ✶ ✶ CLASSIC FEMME DOMME  ✶ ✶ ✶
I choose to connect intimately with all of my submissives/bottoms, and I am obsessed with the psychological and physiological aspects of power exchange. I thrive on being able to slowly take you deeper and deeper into sub-space and realize that consensual power exchange is sacred, hot, and stimulating! It is not only my pleasure but it is my passion to create a space where you can experience the freedom and rush that comes with being allowed to express oneself.
There are many different tones I can take on during a session. We will discuss which tones work best for you. I am intelligence coupled with ability, and I pride myself in being a stern yet caring Denver Mistress. I am extremely skilled and uniquely intuitive.
✶ ✶ ✶ FIRST-TIMERS  ✶ ✶ ✶
I do believe you're here for a reason…
Some of my favorite sessions are those with people who are new to BDSM. I often find that inexperienced people come to me with a very open mind, and that is what I appreciate. While BDSM play can include pain, there is such a thing as sensual dominance. Versatility is key. It doesn't have to be painful.
I play with MANY people who have had zero to minimal experience, "newbies," if you will. Whatever your level of knowledge about the lifestyle and no matter how curious you may be, you have come to the right place. If this is your first time with a Professional Dominatrix in Denver – or anywhere else – know that we will take our time. We will talk before we play to discuss your limits, boundaries, etc. It's ok if you don't know what you're into. I'll help you figure that out! If you need space to communicate after the session, we can do that, too. However,  talking may be difficult because you'll probably be in the Nirvana of sub space.
For first-timers, or those who have lived a more "vanilla" lifestyle, you can rest assured that I will maintain awareness of your state the entire session.
IN-PERSON  LIMITS:
Vanilla sex of any kind – including kissing. Gross. Yes, that INCLUDES oral worshipping that isn't done on my cock. Hire an escort not a Dominatrix if you want vanilla sex. 

Play involving real animals. They simply cannot give consent.

Entitled people who push boundaries

Latex on Me – I don't like to feel confined when I play. I'm also an exhibitionist with a fetish for lingerie. I will wear latex gloves, panties or bras only.
PHONE SESSION LIMITS:
✶ ✶ ✶ FAQS  ✶ ✶ ✶
How do I prepare for you?
Please be clean, well-groomed, and have your body and mind ready for me.
My appointment is at 11 AM, can I arrive earlier?
If our appointment is at 11 AM, I will come to the door at 11 AM sharp and not one minute sooner. Please, do not be early.
Can I have your phone number?
If we are engaging in public play you may have my phone number, however, you may only use it for the purpose of that session. I do not accept bookings via text or phone.
Can I take you to dinner before or after our session or anytime?
No. I have rituals that I engage in before and after play, due to the intense nature of the work we will be doing together. 
Why do you require a deposit?
Deposits are standard practice in the industry at this time. My time is valuable and I start preparing for our session hours – if not days – in advance. 
I've never been to a Pro-Domme. What can I expect?
As long as you come with an open mind and willingness, there is a very good chance of things working out in your favor. I offer intense sensory, sexual, and erotic experiences. You can expect an escape from your daily routine, an entire period of presence and someone who will guide you on that journey. Things that often occur are: pleasure, eroticism, sub-space, fantasy, release, catharsis, power exchange, among other things. Please visit my testimonial page if you want to know more.
I don't know what I like. Can you just figure it out?
I don't call myself the Intuitive Kinkstress for nothing, however, I will ask that you have answered some questions before we play so that I have some sort of basic guide. Please see here for more of my thoughts on this matter.
What do you wear for our session?
I prefer to be comfortable and sexy. For me, that means lingerie with thigh-highs or bare legs and heels or boots. 
If I want to add more time to our session while we are playing, is that possible?
No, I need to know how long I have to create your erotic experience. Adding time can disrupt the flow and arch of our dance. It is also possible that I will have another session booked after our time together. Therefore, please anticipate the total time in advance. Now, if by some chance that we finish early, you will be refunded the appropriate amount.
SaveSave