I thought I'd take a moment to exploit my little grocery girl, Julie. Julie is a long time submissive of mine who appreciates servitude, transformation, sensation play, and BDSM training, of course.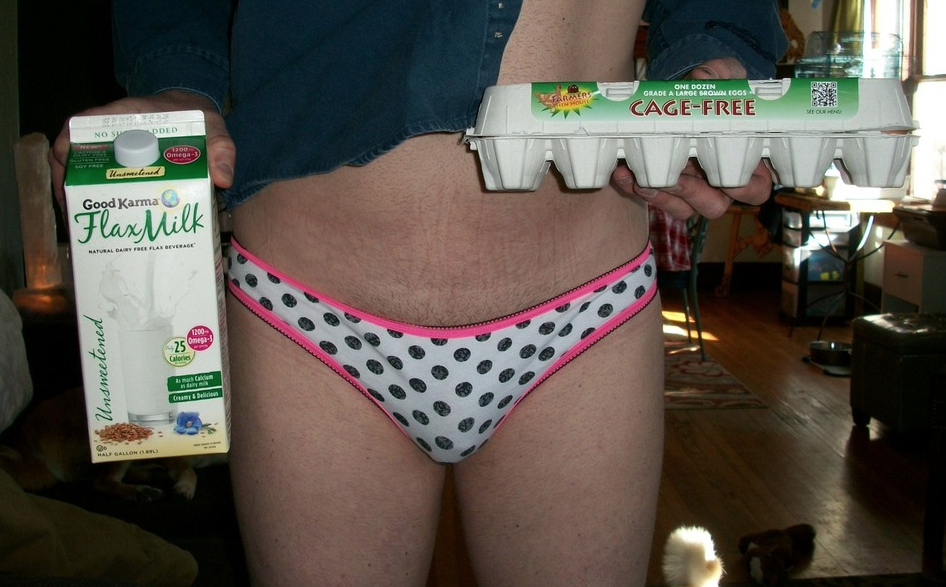 About once a week I send her on a mission to Natural Grocers to pick up a few essentials for the house of kink, aka ma maison. Being able to assist in any way really pleases Julie. In fact, when Julie lived closer to me she was my official laundry slave. It was nice having clean and folded panties every week.
Since she lives further away now, I settle for my little panty-wearing grocery girl.
This photo is ironic because Julie's eggs are NOT cage free. In fact, Julie is in chastity A LOT of the time. I love making her ache. I find that she is more obedient when I take away her privilege of being able to have orgasms. Tormenting Julie gives me much pleasure. Julie is usually only able to last three to four days before she turns into a mouthy, whiny little bitch. I like to challenge her. She is a work in progress.
This is a picture of the special grocery bag I made for my girl. I enjoy thinking about the other patrons of the grocery store staring at Julie with her feminine, sissy bag. I especially like thinking about the cashiers bagging the items, the questions they may have for such a manly looking man with such an emasculating grocery bag. Julie endures the subtle humiliation with respect for her Mistress. Thank you, Julie, for being such a good girl.
Spread the word. Be a fucking pioneer.