Many of my loyal subs know why I haven't been posting much lately. Many of my loyal subs also know that I'm a lover of animals – especially difficult breed dogs like the ones I own – Shiba Inus. A lot of you have brought me dog treats before our session, and one of you even made homemade dog treats for my pups! Needless to say, most people know that my animals are a huge part of my life.
Last week, I had to make the second most difficult decision of my life. The first one was to give my daughter up for adoption from birth when I was 17. The second, to rehome my youngest pup, Coogan Ortus.
Coogan came into our lives 6 months ago. He was wild from the start. At 8 weeks old he showed signs of aggression toward me, especially when I would touch his neck or try to put a harness on him. Most of my other pups have shown this as well, but they grew out of it as their respect for me grew over time. With Coogan, his aggression did not subside.
At times Coogan could be very sweet. He was full of life, curious, and, well, WILD!!! Over the time, I consulted with numerous professionals in regards to his behavior problems. Finally, I spoke with a dog psychologist that actually advised me to rehome him due to his behavioral issues and the fact that my pack still had not accepted him (I have 3 other dogs). She said that unless I wanted Coogan to have a life of crates, leashes 24/7, and possibly medication, that I would have to give him away. There was no way I was going to keep him miserable, and believe me, I know he wasn't happy due to the acting out and high strung destructive behavior he was engaging in.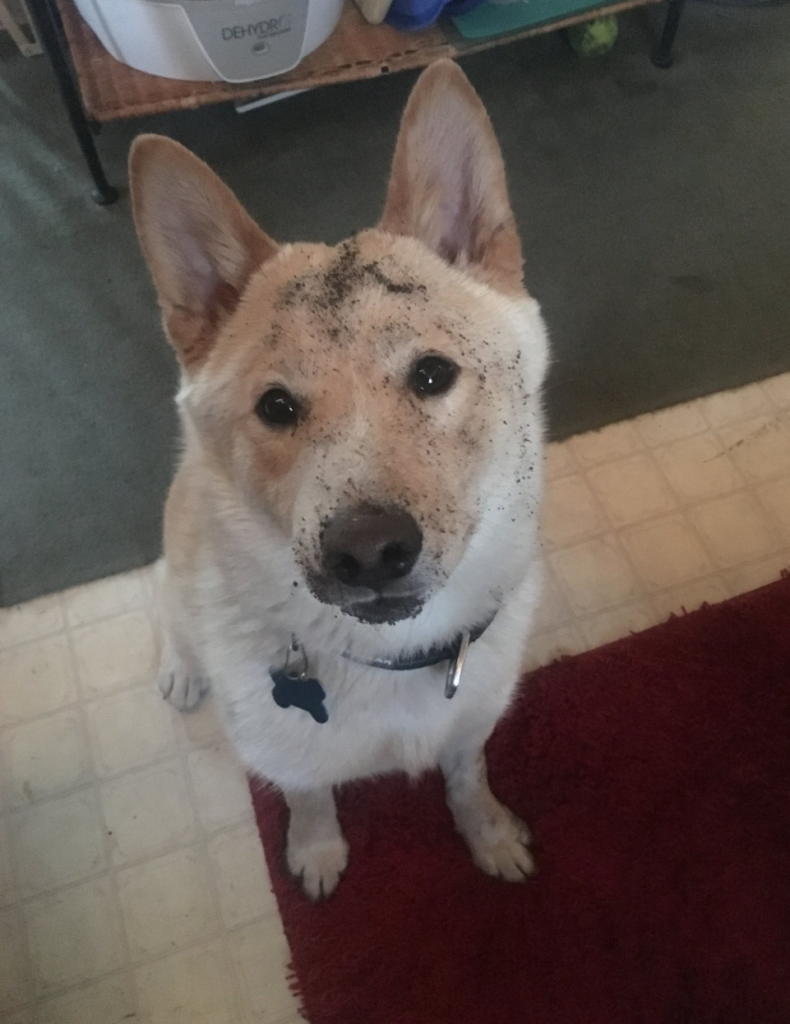 So, I began the heart wrenching task of finding my little guy a new home. I created postings on craigslist, but inevitably ended up turning everyone away. I cried, I bargained, I blamed myself…
Then, I created a post on a Shiba Inu Facebook page, and someone in a different state – a single man with 5 other dogs and 40 acres of land – found him. I knew in my gut that this was Coogan's new home. I left, with one of my other dogs in tow, the next day to drive him on the 800 mile (one way) journey to his new home.
Along the way some of you found out what I was doing and you offered words of comfort and some of you sent me some money to help with the trip. Thank you, from the bottom of my heart. I was humbled by gratitude and appreciate the support so so much. Also, thank you for the flowers.
This is a post in honor of Coogan, my WILD dog, who loved to kiss my face, cuddle when he was sleeping or napping, bite me when he was scared, jump on the table and mantle, play piano, chase after the ball for hours, bite the wind when riding in the car, swim, and start fights. You were never mine and I was never yours. You're home.
Update: Coogan has settled into his new home quite well. He was scared of his new owner for the first few days, but now he is allowing his owner to pet him. The other dogs have accepted him and are showing him the ropes – even licking him. His destructive behavior has halted and he is calm. He is free to run off leash and his homing instinct was proven to be intact on the second day.
My pack is stable again. They are calm and all is well.
Spread the word. Be a fucking pioneer.