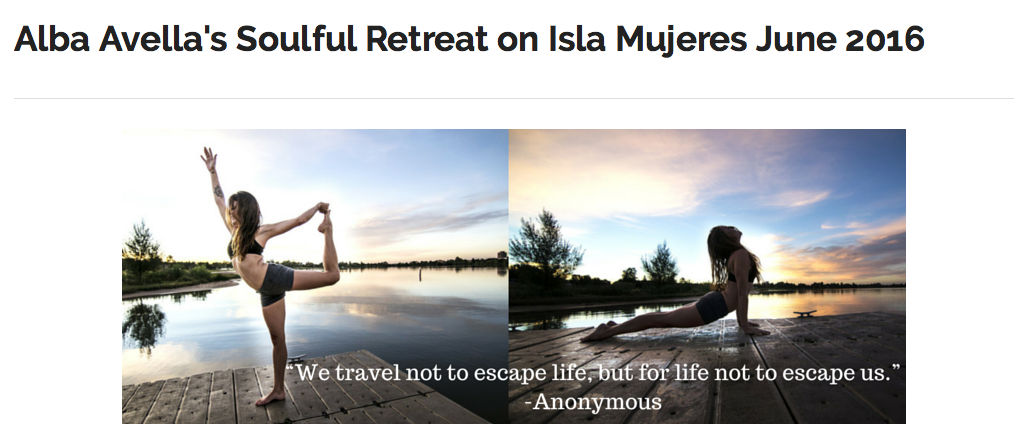 My birthday is in June and I am planning on going on a yoga retreat on Isla Mujeres for five nights with a local yoga teacher who teaches at QiFlow in Denver. Here is the link to the retreat: http://360retreats.com/collections/alba-avellas-soulful-retreat-on-isla-mujeres-june-2016
It has been four years since I've gone on a solo vacation and for those of you who know me best, you know that this Denver Dominatrix needs a vacation! This retreat is going to be amazing. I know it, and I need it. It also falls right on my birthday! Who could say no to that!?
And a little bit of backstory with my history of yoga. I started practicing yoga about ten years ago and I have always loved the practice. I've taken breaks, come back, taken breaks, and come back again. I was introduced to Buddhism through yoga and the word "yoga" actually translates to "to yoke." So, it doesn't matter what your yoga is. It could be anything that you "yoke" yourself to. It could be painting, BDSM, submitting, mountain bike riding, sucking my cock…anything!
Thank you in advance and all donations toward my trip are accepted with much gratitude. Thank you.
To donate to your favorite Denver Dominatrix, email me with the specific amount you would like to contribute, a message if you like, and the name you would like me to use for the donor list below. I will then walk you through the prompts to use a safe merchant you are familiar with: 
CLICK TO DONATE: intuitivekink@gmail.com
Sponsors:
$50  –  "I hope you have a great trip. You take care of so many people and I am glad that you are taking care of yourself." – E. E.

$500  – " That will cover Your airfare and i will feel good about doing something nice and healthful for You.  And hey, maybe one day while You are beating or caning me to within an inch of my life (or equivalent limit) because i need or deserve it for bad behavior, You will remember Your trip to Isla and reduce my punishment by one (but no more than one) stroke.  Mindful domination?" – Seriously Submissive Male

$50 – J.

$30 –

T.

$200 –

B

$500 – L.L.

$100 – Anonymous

$200 – H.
Spread the word. Be a fucking pioneer.